NAtural & Ethical Knitwear
KENA is an organic knitwear brand that was brought to life in the centre of Europe, more precisely – on the island Saaremaa (it is in Estonia). Pine trees, junipers and sea – this is where time stops and whisper has an echo.
KENA is more than just a brand – it's a lifestyle and its goal is conscious and sustainable living .  Ethically crafted organic knitwear & wooden accessories are inspired by the handicraft heritage of the Nordic people and folk art .
KENA literary means nice in Estonian. It's the word that islanders using problably the most of all and it means more than just "nice", the word captures the feeling when everything is really good and even better. Everything is nice  all the time here, on the island Saaremaa.
For our brand KENA represents also 3 important words: natural, ethical, knitwear
NAtural & Ethical Knitwear – KENA
Pure materials that we love
WOOL
Wool is a protein fibre formed in the skin of sheep – it's 100% natural.
Wool has a large capacity to absorb moisture vapour next to the skin, making it extremely breathable.
Thanks to its hygroscopic abilities, wool constantly reacts to changes in body temperature, maintaining its wearer's thermophysical comfort in both cold and warm weather.
Wool is naturally safe. True wool allergies are rare and wool does not promote the growth of bacteria.
Wool also has a naturally high level of UV protection.
ORGANIC COTTON
Organic Cotton is cotton that is grown without using any chemical fertilizers or pesticides on it. Organic Cotton is health-friendly and environmentally-friendly pure material.
Organic Cotton can rightly be called the most skin-friendly, most soothing, and most harmless natural fiber.
KENA is using only high quality GOTS certified organic cotton.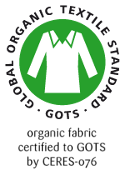 It's a small family business where everyone is doing everything. Keeping your personal and professional lives in balance – this is the everyday challenge . But you will love every part of it –  at least most of the time.